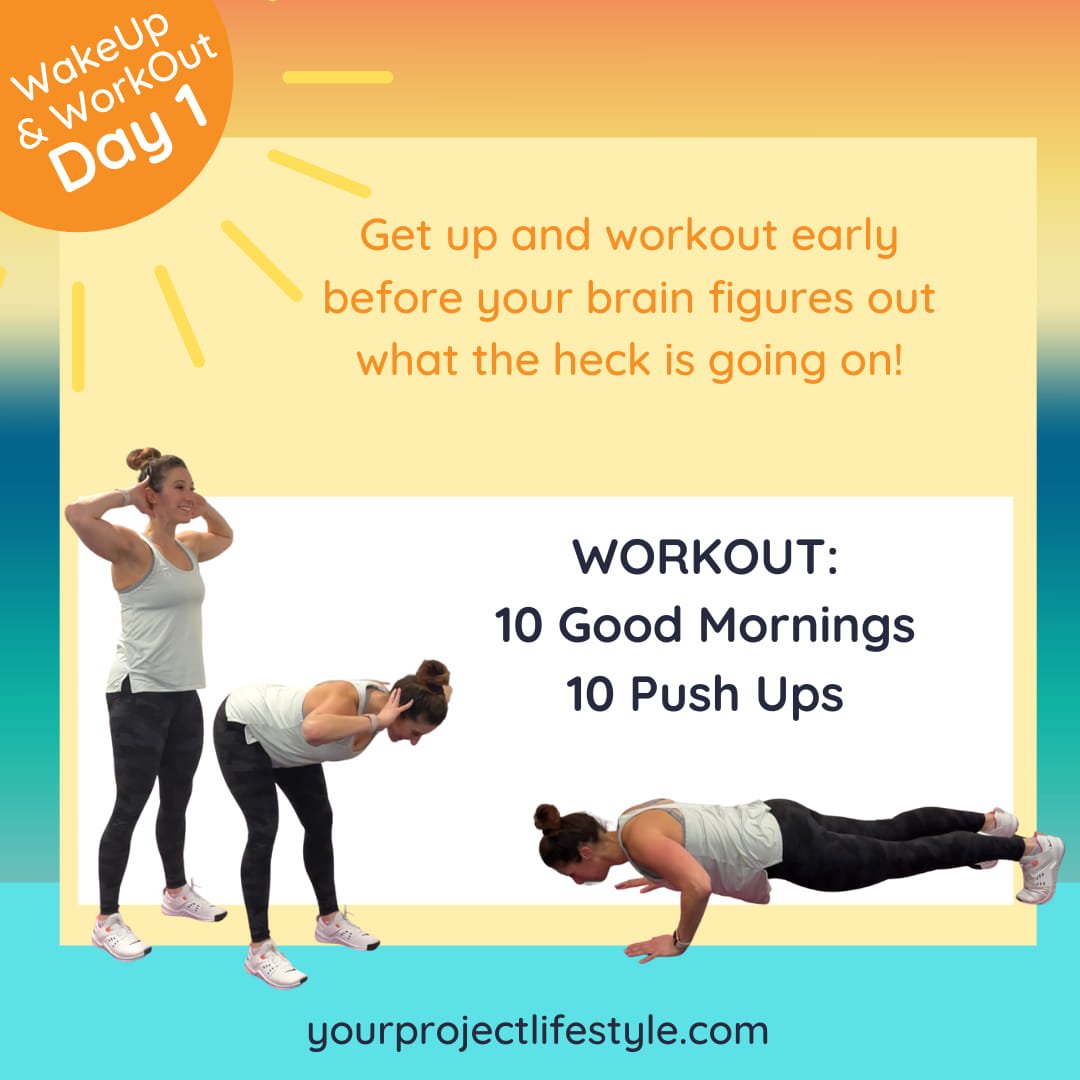 The time has come!!  Yes, we're doing this and I'm so excited you're here.  We're going to WAKE UP together tomorrow 🙂
Get to bed early tonight … be sure to get your full 7-8 hours of sleep … and set your alarm for 15 minutes earlier than you normally would.  When it goes off – GET UP!  We don't use that snooze button anymore.  We're talking about YOUR LIFE.  YOUR HEALTH.  Your future.  Your goals.  You're good enough.  You're strong enough.  You've got this, boo!  Set your alarm and get up.
Today's Motivational Message:
Get Up and Workout Early before your brain figures out what the heck is going on!
Your Workout:
~  10 Good Mornings
~  10 Push ups
Repeat 3 times.
Then move on with your day with energy & excitement!
Workout Tips:
For the Good Mornings – Keep your hands by your head and your chest lifted.  The whole move is simply a hinge from the hips.  Press your booty back, keeping your back flat, then pull back up squeezing your glutes under.
For the push-ups – crush them out on your knees or toes.  Be sure to place your hands about shoulder width apart, in line with your chest.   Lead with your chest, keeping your neck in line with your spine.
Day ONE just may be the hardest for many of you.  Your alarm will go off, and you'll think to yourself – am I really gonna do this?  YES, YOU REALLY ARE!  Don't over think it.  The alarm goes off – GET UP.  Commit to yourself and get it done.
And we want to hear from you afterwards!  Comment below when you're finished your workout and let us know how it went.  You've got this.