xpress fit
15 minutes press play
A 15 minute workout with just 1 minute at high intensity has the same benefits as 45 minutes of jogging?

15 minutes of strength training, 3 times a week, is proven to increase resting metablic rate. That means massive fat burning – even at rest!
Exercise lowers your risk of certain diseases.
Participating in 75 minutes of vigorous activity a week can decrease your risk of getting cancer or cardiovascular disease. That's only 12 1/2 minutes a day!

Science says that just one hour of exercise per week (that's less than 10 mins a day!) could prevent up to 12 percent of depression cases.
All you need is wifi
a set of dumbbells, mini-loop resistance bands and an optional step (or bench/stable chair)
Designed for home
 or travel workouts with small spaces
Geared to ALL AGES
 & ALL fitness levels – especially beginners and those looking to work on balance & stability. Modifications and intensifications are offered through the workout videos
Continue Reading
Leg Day in just 15 minutes? You know we gotta WERK it!!! Our lower muscles are BIG muscles and we are burning a TON of…
Continue Reading
15 Minutes is all you need to shred the waistline! Ready to work your CORE? We're on the floor for all of today – but…
Continue Reading
15 Minutes of high intensity intervals – this is how we get results with very short workouts. Do your best to keep pushing – to…
Continue Reading
How do you do a full body workout in just 15 minutes? You rock out a workout filled with big, compound moves that target multiple…
Continue Reading
15 Minutes to strengthen & sculpt your booty – using Loop Bands! Having strong glutes is so important – yes to look
continue reading
15 Minutes is all you need to Strengthen & Tone your Arms! Time to get pumped!! We are targeting all of the
continue reading
Welcome to PHASE TWO! We're heading into our Xtreme workouts – and we're kicking it off, and finishing, with this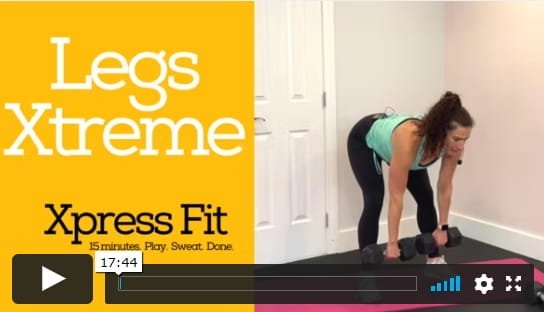 continue reading
We've got a lot of work to do in just 15 minutes!! Welcome to Phase TWO = XTREME! In this phase we'r
Get LIFETIME Access to Xpress Fit for a one-time payment of just $47!