Best Fitness Inspired Valentine's Gifts
Valentine's Day is not all about eating chocolate, hanging out in exquisite places, or sun basking on the sandy beaches together with your partner. If your partner is a fitness enthusiast, then his or her priorities might be different. Getting her a fitness-inspired valentine's gift might just do the trick. There are a lot of such gifts that are likely to make Valentine's day more appealing and unique. Below are some of the options at your disposal.
If you are into yoga, then this is the kind of mat you need. Nobody wants to keep sliding due to sweat that is likely to soak the mat. Fortunately, this high-tech yoga mat will prevent such an occurrence. It has a unique topcoat that wicks away moisture. Therefore, as you become hotter, your grip on the matt grows firmer. Furthermore, this mat keeps away bacteria, germs, and odor, making it long-lasting. With such amazing features, this myoga mat will be a perfect gift for your yoga-loving partner during Valentine's.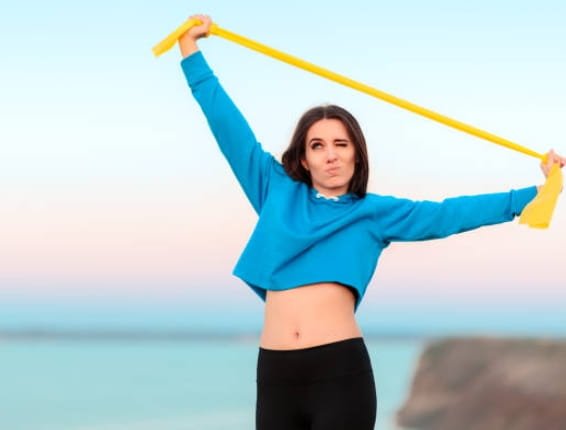 A comfortable and flexible training gear makes working out easier and more fun. That being the case, you can surprise your lover with this amazing crop top to make her workout session more stylish and stress-free. It is not only trendy but also very comfortable. Your partner will definitely rock in the gym or whole participating in outdoor physical activities.
Exercise Sliders & Resistance Bands
For a low -impact and very effective entire body workout, this fitness equipment is a must-have. Suitable for overall exercise, strength training, stretching, and power weight programs. They ensure your body is in great shape. Their portability will allow your partner to conveniently carry it around. Why not purchase these tools for your gym-loving significant this Valentine's Day.
A significant number of training equipment are not portable. But for yoga mats, getting a portable one is very easy. However, you also need an amazing bag to carry it around. This is where this MZ Wallace camo mat bag comes in handy. Made in camo print, ensures it very unique. Furthermore, it has enough space where she can put her mat together with other essentials such as her phone, or car keys. With no shadow of doubt, she will fall for this gift. It is not only stylish but very convenient.
Documenting your fitness journey is one of the ways of keeping you motivated and focused to achieve your fitness goals. This journey can be documented in this amazing track your workout of the day (WOD) journal. It allows you to appreciate where you have come from. It has enough space to track at least 250 workouts. Besides, it comes together with a pen, so you do not have to wary about buying your own.
Conclusion
There is a wide variety of fitness inspired valentines' gifts available in the market. You can surprise your partner with that which you deem best for her/him. Doing so will help break the monotony of doing the normal stuff people do on Valentine's Day. Time to defy the norm!