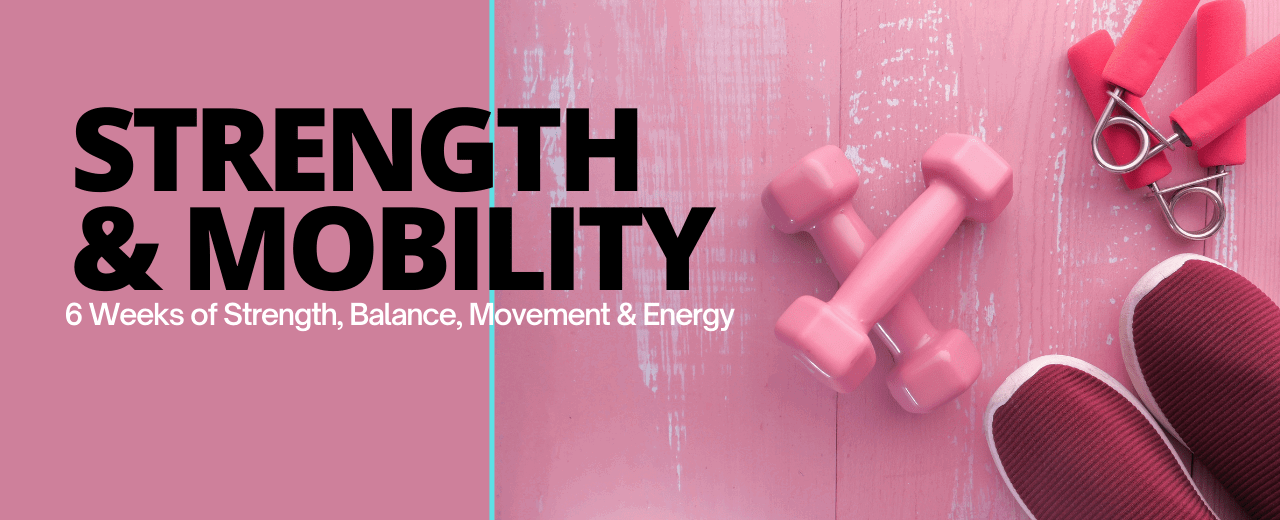 Program details:
STRENGTH & MOBILITY is 6 weeks of low impact, low intensity workouts – designed to help your clients be strong, balanced & energized – moving efficiently – pain free.
This program is geared to ALL AGES and ALL fitness levels – especially beginners and boomers. There are options of modifications and intensifications throughout the videos.
The focus is on Strength – Stability – Balance – Mobility – and 360 Core Training.  All workouts are geared towards getting stronger, in control, & more balanced – so daily life becomes easier & safer.

Strength is the ability to overcome resistance or to act against resistance. To build muscle and bone strength.
Balance is the ability to control the body without movement against gravity.
Stability is the ability to control the body during movement.
Mobility is helping to move in a greater range of motion without muscle stiffness or pain.
360 degree core training is working the abs, booty, and back – to greatly help with all of the above!
Designed for limited space – perfect for home or travel workouts – but can be taken to the gym as well.
A set of dumbbells is the only fitness equipment required for this program. It is also recommended (optional) to have a resistance band, loop resistance bands, and a step / stable chair.
This is a 6 week program, with 8 unique workouts over 3 phases – Level 1, Level 2, and Doubles. Each workout is less than 30 minutes – and it is recommended for 4 workouts a week.  All workouts are listed out on a detailed calendar showing the workout of the day.